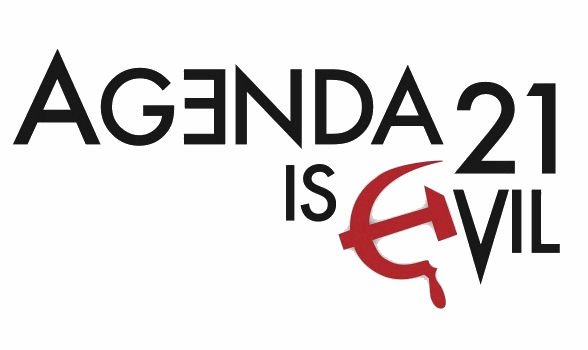 Our nation is sadly deteriorating and America's Exceptionalism is wasting away in large part due to the indoctrination of our school children. Texas unfortunately has bought into the lie of the United Nation's Agenda 21/sustainable development goals of eliminating world poverty.  Sounds great on the surface but in reality it is the removal of individual freedom and personal property.
The Texas Education Agency, Texas Education Service Centers, Texas Association of School Administrators are all behind the implementation of the United Nations Goals in our school system.  Wake up Parents and Taxpayers and learn what danger this indoctrination will bring to our National Sovereignty and Freedom. Our children and grandchildren's life will forever be changed if citizens do not get involved in stopping this. The common answer you hear from individuals is "I am to busy."  You will rue the day that you did not slow down and protect our Freedom from these progressive radicals that are working overtime to implement policies and changes that will make America where once was spoke "The Land of the Free"  a Land that is Free no longer. Please get involved and educate yourself. We need you.
Texas Education Agency Power Point on Green
Christopher Columbus goes Green
Learn more about the United Nations Agenda 21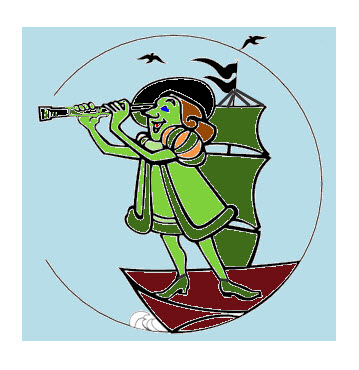 Revisionist History has become the norm in Texas schools with the use of a curriculum called Cscope. Does your school district use it? Check HERE.
One of the Cscope lessons takes the liberty of removing excerpts from Christopher Columbus's journal entries where he admires God's creation and beauty to use them in support of the environmentalist goals of the United Nations Agenda 21.
Below is the exact title to Christopher Columbus's journal entries and one of the entries that Cscope reps have cherry picked words out of to support their environmental agenda for the purpose of  indoctrinating Texas students. The highlighted areas are the cherry picked words removed as you will see below.
IN THE NAME OF OUR LORD JESUS CHRIST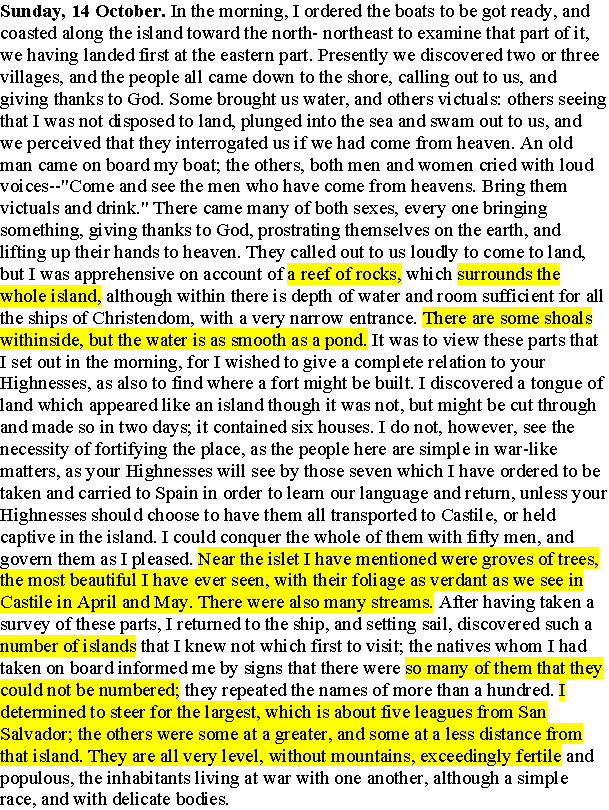 CSCOPE'S REVISION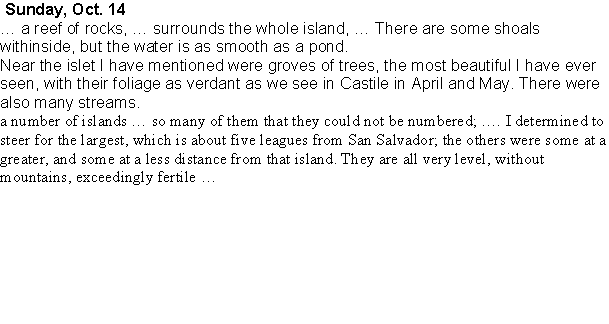 Cscope has found it acceptable to track Islamic Scholar Ibn Battuata pilgrimage to Mecca but teach students. Learn more about that lesson HERE.
You can learn more about Cscope @ www.txcscopereview.com
More on the United Nations Agenda 21 @ FreedomAdvocates.org
Glenn Beck on Agenda 21
GLENN BECK'S BOOK ON AGENDA 21, though fictional it is thought provoking and makes wonder what our world will one day become if we don't change course.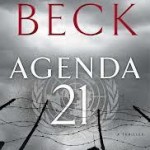 Agenda 21
UPDATE!
Sen. Dan Patrick called this afternoon and we will be meeting on Tuesday to discuss Cscope. More than likely there will be a Senate Hearing on Cscope towards to end of this month and we need any and all patriots to attend for support (Dewhurst mentioned that).
Patrick mentioned that Senators are not aware or they are just hearing about Cscope so please contact your Representatives. 
If you contact Patrick's office be respectful in voicing your concerns and ask for a complete review of Cscope. Thanks. 
HELP!
CSCOPE HAS TO BE ABOLISHED!

I DESPERATELY NEED MANY OF YOU DO A COUPLE OF THINGS FOR ME.
1. Go to Sen Dan Patrick's Face Book page and find this POST he posted yesterday. It states the following…….
CSCOPE UPDATE SESSION DAY 9 JOURNAL
As I have previously written here, I plan to have a hearing on CSCOPE as one of my first education hearings. I visited with some CSCOPE folks today. I am hopeful that before the hearing in a few weeks they will already have addressed and resolved two issues:
1. Total transparency for parents to view the curriculum
2. Removing language that subjects teachers to possible criminal penalties if they violate the contracts they sign with CSCOPE
I have made it clear that we will not accept teachers being subjected to criminal penalties in these contracts and parents not to have easy access to the curriculum.
Once again it is my hope they will come to the hearing with these issues resolved in advance. There is more to discuss, but these two issues should be resolved sooner than later.
2. Let him know this is unacceptable and that Cscope needs to be done away with. The whole Framework of Cscope is built on Marxism.
3. He needs to take time and listen to teachers/parents who know more about Cscope/ not just those that have a financial interest in it.
4. Please call his office and voice your objection as well.   His office number is 713 464 0282
FOR ADDITIONAL INFO ON CSCOPE GO TO WWW.TXCSCOPEREVIEW.COM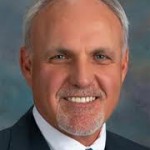 Dr. Jeff Turner, superintendent of Coppell ISD is on his way to Washington DC again. Why?  Turner flew to Washington on Dec. 5th to discuss Common Core Standards and non adoption of them in Texas.  Dr. Turner  is also President of the Texas Association of School Administrators, TASA.   TASA is gearing up to attend the American Association of  School Administrtors, AASA to hear humanist Linda Darling Hammond who is associated with Communist William (Bill) Ayers  speak on the Common Core Standards. Hammond is also an education adviser to the Obama administration.  Why are  Texas Taxpayers funding this? Why are we having to pay for our superintendents to travel to here about the Marxist Common Core standards Texas did not adopt?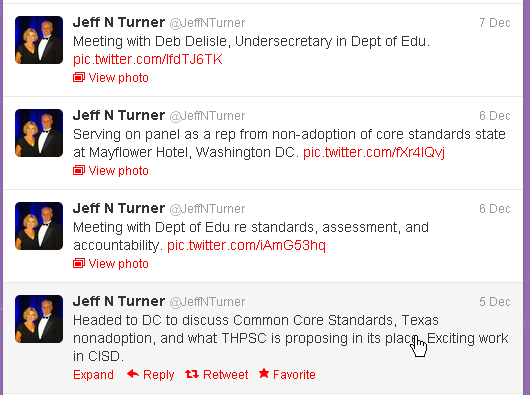 Dr. Turner seems to be all about promoting an education of the 21st Century. An education that is NOT based on individual achievement but on the collective. It is a watered down education that removes vocabulary, novels, cursive writing and the basics of algebra. Why are our administrators buying into this?
Though Common Core was not officially adopted in Texas the Education Service Centers have found a way to implement a similar product that has Common Core written all over it, called Cscope. Cscope is an online curriculum that nearly 80% of Texas school districts have purchased and implemented it without parents knowledge. The curriculum has not been available for parents to see and teachers had to sign a non-disclosure statement that they would not release the contents or say anything negative about it. Csocpe is pro Islamic and anti Christian. It pushes a global collectivist agenda. It is based on the Marxist/progressive ideology of Obama education adviser Linda Darling Hammond who is associated with communist Bill Ayers.  Hammond has been a regular speaker at Cscope Conferences.
Dr. Turner has also signed a contract for the Coppell ISD with TASA'S  School Transformation Network. Here is their Visioning Document. Notice following the document are the original 35 superintendents that promoted this vision.
****TASA and those behind the Texas Schcol Transformation Network which has plans on taking Texas education on a progressive/Marxist path. ***
In Texas today unbeknownest to parents and taxpayers there is a progressive/Marxist curriculum called Cscope is a  that has been implemented in nearly 80% of the Texas Schools.   Parents have not been  aware that it is in their schools due the fact that homework is discouraged and most school districts to not purchase text books. It is online and parents have been denied access to the material. As alarming as it is Teachers were required to sign a non-disclosure statement that they would not release the contents are say anything negative about it.
For more information on Cscope go to www.txcscopereview.com
 Cscope, What is behind the Curtain, Part I
 Cscope, What is behind the Curtain, Part II